Heritage Interpretation Training Center

Advanced Interpretive Services for US Army Corps of Engineers
Managers, Supervisors & Team Leaders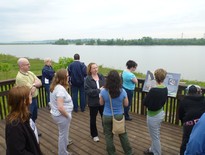 Advanced COE IS Course participants at the
Mississippi River Visitor Center.

15 Units, 3 CEU Credits
Tuition: $500.00


This course is designed for COE Rangers, Managers, Supervisors and Team Leaders who have completed the basic COE Interpretive Services Course and are interested in advancing their knowledge and skills in environmental and cultural interpretation and interpretive services management. The course provides a solid overview of several key managerial issues in interpretation, from interpretive planning, using interpretation to accomplish management issues, interpretive services contracting and critiquing and evaluating interpretive staff. This is NOT an official COE training course (purple book) but has the same content as the "live" Advanced IS Course. As the advanced course is sometimes cancelled due to low enrollment, this is a privately offered training experience for those still wanting the advanced instruction (same content - same instructor - just offered via internet).

The course content is an expanded e-LIVE version of the COE "live" Advanced Interpretive Services Course - replacing the field trip with additional diverse topics - and saving you travel costs. You can start the course at any time and work through the course at your own speed. This is a internet based course with live interaction with the course instructor.

The course instructor is John Veverka, the current COE contract trainer for both the Interpretive Services course offered in Huntsville, and the Advanced Interpretive Services course offered in Portland, OR.

Resources you will be provided with:

* John Veverkas new college textbook Two Volume e-book Set:
- Interpretive Master Planning - Strategies for the New Millennium
- Interpretive Master Planning - Philosophy, Theory and Practice.
* Copies of completed JVA Interpretive Master Plans for COE Projects as examples.
* John Veverkas new Interpretive Trails Book.
* A variety of other handout materials on advanced interpretation.
* One-on-one consultation and coaching as needed.

* This course will:

* Provide you with a solid overview of new and updated interpretive concepts and techniques.
* Give you additional expertise in being an interpretive planning project manager.
* Give you direction in writing a Request for Proposal for hiring a consultant to design/fabricate various interpretive services and media.
* Give you specific details of what should be in an Interpretive Master Plan for USCOE Park.
* Give you updated and new strategies for using interpretation to help accomplish your management objectives.


About the Instructor: Prof. John Veverka





- Instrustor for the US Army Corps of Engineers Interpretive Services Course (past 20 years).
- Instructor for the US Army Corps of Engineers Advanced Interpretive Services Course (past 4
years).
- B.S and M.S in Heritage Interpretation - The Ohio State University (Taught a course on
Interpretive Master Planning - wrote the first Interpretive Planning Text book used at OSU).
- Ph.D. program in Interpretation at Michigan State University. (Taught introduction and
advanced interpretive courses including interpretive planning units.)
- Adjunct Professor Heritage Interpretation (summer heritage tourism institutes) North
Carolina State University, New York State University.
- NAI Certified Interpretive Planner and Trainer
- NAI Fellow
- Certified Professional Heritage Interpreter (Canada).
- Author of several interpretive planning/training college text books.
- Publisher of InterpNEWS - the International Heritage Interpretation e-Magazine.
- 40 years of interpretive planning, training and writing experience.
- Currently a Senior Instructor, Kansas State University - Global Campus (Interpretive Planning).



What are the Units?


Unit One - Definition, theories and objectives of interpretation review.

Unit Two - Review of the Model of Interpretive Planning

Unit Three - Using interpretation to help accomplish management objectives.

Unit Four - Developing an Interpretive Plan for your project (general guidelines)

Unit Five - Experience and Outcome Based Interpretive Planning.

Unit Six - Overview of Interpretive Writing

Unit Seven - Planning, designing and contracting for Interpretive Panels.

Unit Eight - The Art of visitor center interpretive exhibit re-hab ( how to fix them when you have no $ to replace them.).

Unit Nine - Visitor Center Exhibit Evaluation Strategy.

Unit Ten - Planning and designing self-guiding interpretive trails.

Unit Eleven - Planning and managing outreach programs.

Unit Twelve - Developing Request for Proposals for interpretive services or media.

Unit Thirteen - Planning for Interpretive Training Courses.

Unit Fourteen - That Art of Critiquing and Coaching Interpreters.

Unit Fifteen - An Interpreters Guide for Survival Economics or proving interpretive services economic value and benefits to your agency during funding cuts.

If you would like more details on this advanced course please feel free to contact me. If you would like to enroll in this course, click on the Pay Now button below, and off we go to get you started. Course tuition is: $500.00 USD.

Reminder NOTE: While the course content is exactly the same, this is NOT the official USCOE Purple Book Advanced Interpretive Services course, as this is a privately offered internet based course with live interaction with the course instructor via phone, e-mail or SKYPE. You will not receive a COE Certificate of Completion, but will receive a Heritage Interpretation Training Center Certificate of Completion and 3 CEU unit credits. This is a college level training experience.

Cheers,
Prof. John Veverka
jvainterp@aol.com
SKYPE: jvaintep