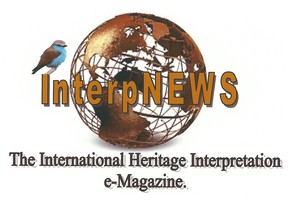 InterpNEWS started about 5 years ago as a John Veverka & Associates newsletter-with a few interpretation articles added. That first mailing went to about 100 agencies, organizations and individuals. Now 5 years later InterpNEWS has evolved into the most widely read interpretation journal/magazine - that is sent FREE to anyone or agency/organizations that wants to receive it. You can post it on your web site or forward it on to your members for agencies and organizaitons. Over 300,000 interpreters, tourist guides, agencies and organizations in 60 countries currently receive InterpNEWS.


InterpNEWS is sent out as a PDF document via your e-mail address. If you would like to receive InterpNEWS just send me your e-mail. It is also accessible on-line (read only) by scrolling down to the photo icon for each issue and clicking on the "click to read" icon.

NOTE: Be sure your e-mail in box can accept large PDF files, usually more than 5 MB but can be up to 16 MB. Many govt. and agency mail boxes won't take it. If that happens try your own gmail, hotmail, etc. e-mail account to be safe.

We are always looking for articles on any interpretive topic. Guidelines: up to 4 pages, single spaced, 12 point times/roman, with the pics as jpegs. Send as a WORD document. Contact me if you have any ideas for an article you would like to submit. jvainterp@aol.com



InterpNEWS is published 6 times a year and is FREE.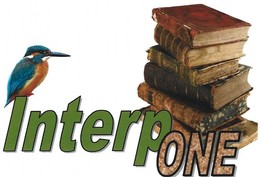 Our May/June 2016 Issue is now available. You can also read it at: https://issuu.com/interpnews

In This Issue:

- Interpreting the praying mantis - J. Veverka
- Out of Africa ... The World Elephant Center - Brent Liddle
- Interpreting 'water bears'...The toughest creatures on the planet. Wild Facts
- Scrolling through History: A new app for the Royal Line of Succession. Elizabeth Simpson
- With wings and wonder, children gain knowledge about Monarch butterflies at
Oakland County Parks. Jane Peterson
- The Commercialization of Heritage: Key Insights from South Africa's
Castle of Good Hope, Cape Town, South Africa. Calvyn Gilfellan & Hilton Naidoo
- Bring on the CARP for Better Interpretive Photography. John Miller
- Interpreting Climate Change: The Human Factor Pat Walsh
- Horicon Marsh 12,000 years of change Alan Eidson
- The Tale of a Black Shirt: Finding the hook that engages your audience. Jim Jordan
- Anatomy of a Program: Trepidation on the Tramway, Skinner State Park, MA Matt Villamaino
- Jargon Jangle - Judy Fort Brenneman
- Partnering for Climate Change Communication in National Parks - Jenell Walsh-Thomas



Our March/April Issue - Available at https://issuu.com/interpnews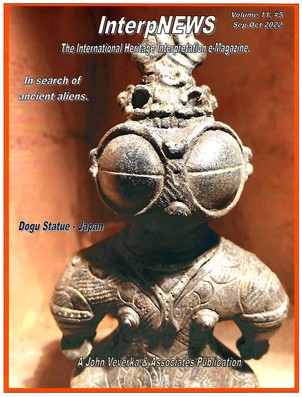 Some of our upcoming issues: Our July/Aug 2016 issue (left) and Sep/Oct isssue (right).