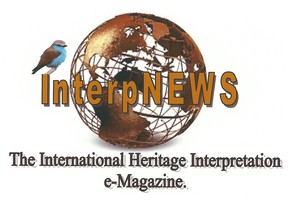 InterpNEWS started about 6 years ago as a John Veverka & Associates newsletter-with a few interpretation articles added. That first mailing went to about 100 agencies, organizations and individuals. Now 5 years later InterpNEWS has evolved into the most widely read interpretation journal/magazine - that is sent FREE to anyone or agency/organizations that wants to receive it. You can post it on your web site or forward it on to your members for agencies and organizaitons. Over 300,000 interpreters, tourist guides, agencies and organizations in 60 countries currently receive InterpNEWS.


InterpNEWS is sent out as a PDF document via your e-mail address. If you would like to receive InterpNEWS just send me your e-mail. It is also accessible on-line (read only) by scrolling down to the photo icon for each issue and clicking on the "click to read" icon.

NOTE: Be sure your e-mail in box can accept large PDF files, usually more than 5 MB but can be up to 16 MB. Many govt. and agency mail boxes won't take it. If that happens try your own gmail, hotmail, etc. e-mail account to be safe.

We are always looking for articles on any interpretive topic. Guidelines: up to 4 pages, single spaced, 12 point pica.

NEWS - InterpNEWS now accepts advertising in our publication. Reach over 300K in 60 countries with each issue. Contact me for details.
_______________________________________________________

InterpNEWS is published 6 times a year and is FREE.

Our May/June 2017 (current issue) of InterpNEWS. You can read it at: www.issuu.com/interpnews.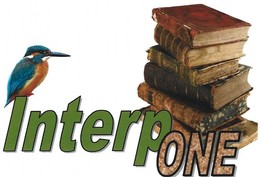 In This Issue:

- Meet our Regional Editors
- Interpreting Beautiful But Dangerously Toxic Caterpillars.
- Interpreting a Big Story in a Small Space. Chris Brusatte
- A Trek of Discovery - Torres Del Paine - Patagonia - Rudy Pearce
- "Jubal, Will You Call Square Dances?" Dr. Martha Benn Macdonald
- Developing a County Quilt Mosaic to help interpret Iowa's quilting heritage. Ron Blair
- Every word counts with Stagetext. Emily Gallagher (UK)
- Digital-born media players find new ways to cover the 'old' story of climate change. Press Release
- 4 Strategies For Answering Questions (especially when you don't know the answer) Ethan Rotman
- Farm Magic: How can a farm have anything to do with heritage interpretation? Rod Burns
- Seussian Ode to the Interpreter - Amy Lethbridge.
- The Twenty Mule Team and Borax - a story of the old west. J. Veverka
- Interpreting Plate Tectonics - Edward Clifton
- If it Bugs you... Eat It! John Veverka
- Nature Bullet Journaling - Kelli Parke
- We'll do the content ourselves… Dan Boys
- InterpNEWS Marketplace


Our upcoming July/Aug Issue. We are currently accepting your articles for this issue. Also our Sep/Oct issue (Day of the Dead cover) and our Nov/Dec issue. Then a new year, our Jan/
Feb 2018 issue. Contact me if you would like to submit something for this issue. jvainterp@aol.com.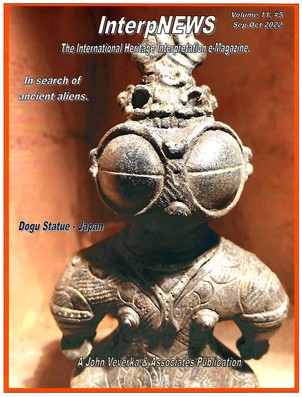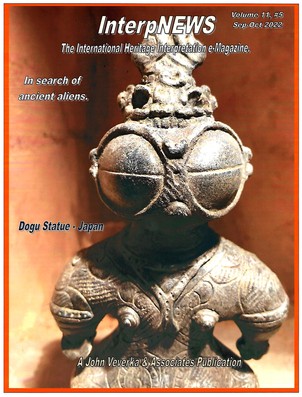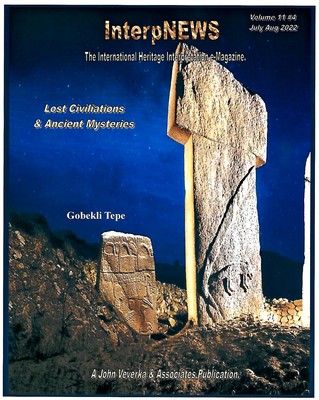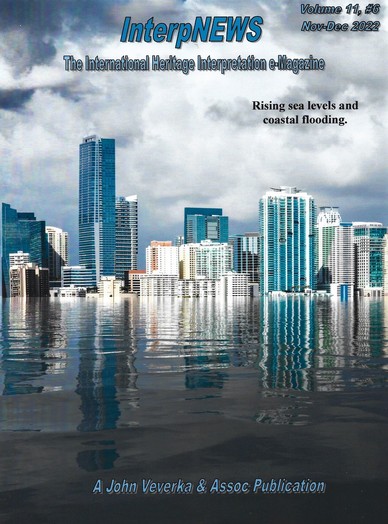 Interested in being one of our regional editors?

Regional Editors are professional interpreters with a mission to help advance the interpretive profession and make connections with other interpreters, agencies and organizations to encourage folks to share knowledge and ideas about heritage interpretation. They may represent InterpNEWS at conferences or other interpretive gatherings to help generate articles about new technologies, approaches, exhibits or other innovative advancements in interpretation. Want to be one of our Regional Editors? Let's chat. jvainterp@aol.com.