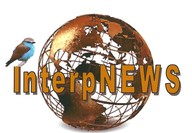 Digital Magazine

InterpNEWS New Subscriptions Update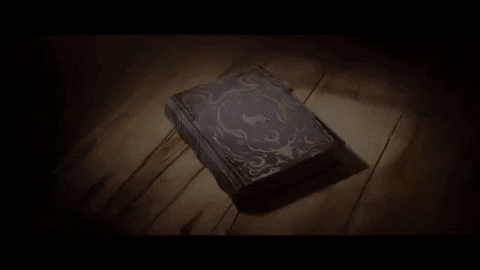 New reveals with every issue and every story.



InterpNEWS started about 12 years ago as a John Veverka & Associates newsletter-with a few interpretation articles added. That first mailing went to about 100 agencies, organizations and individuals. Now 12 years later InterpNEWS has evolved into the most widely read interpretation journal/magazine - that was sent FREE to anyone or agency/organizations that wanted to receive it. You can post it on your web site or forward it on to your members for agencies and organizaitons.

New InterpNEWS Subscription Policy for 2023. With rising costs for research subscriptions, website costs, new computer publishing programs, and more time to prepare each issue, I simply need some help to cover the increasing overhead, and time producing and sending out each issue.

I felt that a very low $20.00 subscription fee per year would help me to continue to publish 6 annual issues of InterpNEWS and add my special issues too, as illustrated bellow for 2023.

InterpNEWS is sent out as a PDF document via your e-mail address.

NOTE: Be sure your e-mail in box can accept large PDF files, usually more than 5 MB but can be up to 16 MB. Many govt. and agency mail boxes won't accept it. If that happens use your own gmail, hotmail, etc. e-mail account to be safe.

I am always looking for articles on any interpretive topics. Guidelines: up to 4 pages, single spaced, 12 point times/roman, with the pics as jpegs. Send as a WORD document. Contact me if you have any ideas for an article you would like to submit.

Cheers, John Veverka - jvainterp@aol.com



InterpNEWS is published 6 times a year, with new subscriptions beginning
with the January/February 2023 issue is only $20.00/year.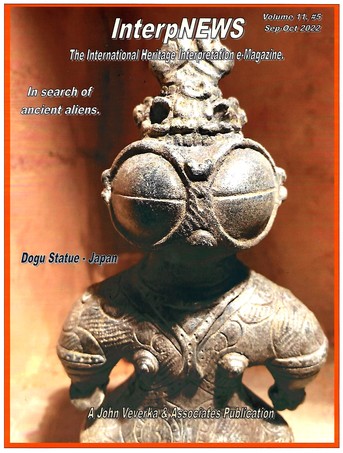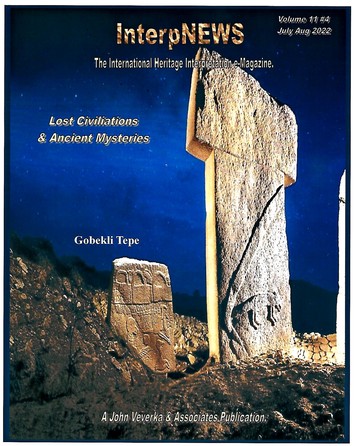 Our Current Sep-October issue on Ancient Aliens and my recent July-August Issue on Ancient Civilizations are still available. If you'd like a free copy of these and like to subscribe to future 2023 issues, just send me an e-mail if you have any questions. jvainterp@aol.com


------------------------------------


The Nov/Dec issue available and will be one of our Climate Special Issues focusing on Rising Sea Levels. This is the last 2022 complementary issues.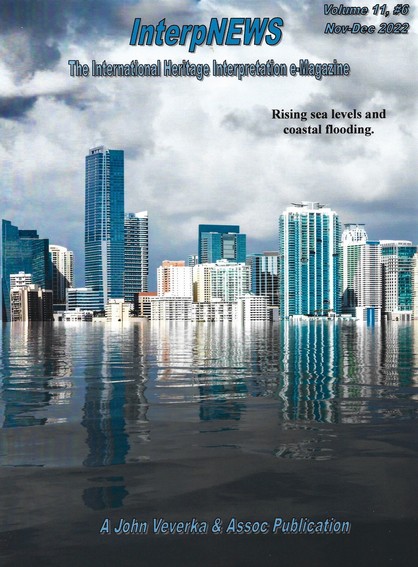 Here's the table of content for the Nov/Dec 2022 issue:

-Antarctica's melting 'Doomsday glacier' could raise sea levels by 10 feet,
scientists say, Julia Jacobo
-Oceans are hotter, higher and more acidic, climate report warns - Jake Spring
-Earth's oceans are getting hotter and higher, and it's accelerating- Rebecca Hersher
-How Fast and How Far Will Sea Levels Rise? Nicola Jones
-NOAA sees sea level rise of up to 6.6 feet by 2100 - Wendy Koch,
-Sea Level Rise Is Inevitable but We Can Still Prevent Catastrophe for Coastal Regions -
Zita Sebesvari
-New Research Affirms Modern Sea-Level Rise Linked to Human Activities, Not to
Changes in Earth's Orbit - Rutgers University
-Climate scientists say building collapse is a 'wake-up call' about the potential impact
of rising seas - Rachel Ramirez,
-Sea Level Rise Projection Map - Miami - Owen Mulhern
-How many people will migrate due to rising sea levels? Why our best guesses aren't
good enough -The Conversation
-Climate Migration: An Impending Global Challenge - Renee Cho
-Climate Change: Global Sea Level - Rebecca Lindsey (NOAA)
-Where America's Climate Migrants Will Go As Sea Level Rises - Linda Poon
-Sea Level Rise to Gobble Up Hundreds of Thousands of US Homes, Buildings by 2050
-Glaciers and "zombie ice": The planet is melting at both ends, research finds.
-How is sea level rise related to climate change? NOAA
-Rising sea levels putting wildlife at risk. Kristen Pope
-Sea-level rise threatens hundreds of U.S. animal species - Doyle Rice
-Rising sea levels are creating 'ghost forests' of coastal trees- PBS
-Oysters at work helping scientists and coastal communities keep the rising waters
from stealing our shores - Sydney Giuliano



New InterpNEWS Ditigal Magazine Issues for 2023 - available for IN subscribers.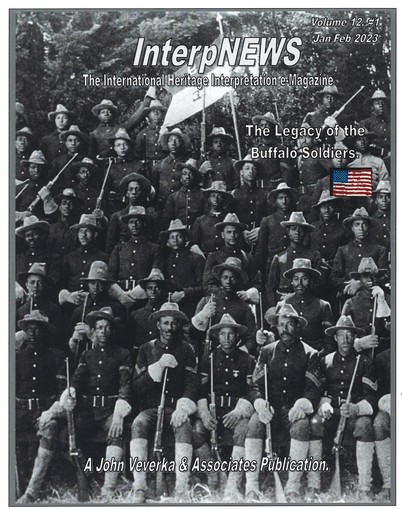 Our first issue for Jan-Feb 2023 focuses on The Buffalo Soldiers.


In this issue:

-Buffalo Soldiers -Legend and Legacy
-Buffalo Soldiers -The National Park Service
-Why Buffalo Soldiers Served Among the Nation's First Park Rangers - Alexis Clark
-The Archeology of Buffalo Soldiers and Apaches in the Southwest – NPS
-The Role of "Buffalo Soldiers" in the Native-American Wars - Patty Inglish
-Memoirs of a World War II Buffalo Soldier - Abby Callard
-How the 'Buffalo Soldiers' helped turn the tide in Italy during World War II -Robert Hodges, Jr.
-10 Facts About Buffalo Soldiers
-Cathay Williams -Female Buffalo Soldier
- Black Cowboys: The Unsung Heroes of the Frontier
-The African American Women of the Wild West

The March/April 2023 issue will focus on -Cowgirls and Women Who Ruled the Wild West.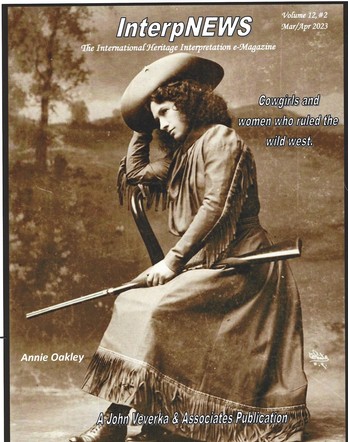 IN March/April 2023 (Cowgirls Issue) table of contents.


-The true story of Annie Oakley, legendary sharpshooter - Emily Martin
-10 Fascinating Facts about Stagecoach Mary, Motherly Wild West Pioneer
By Karen Harris
-7 of the Gutsiest Women on the American Frontier - Brunn Holland
-Belle Star – Biography
-Calamity Jane – Biog
-Cathay Williams - Defied Her Time to Become the Only Known Female Buffalo Soldier
-Meet the Jewish "Lady at the OK Corral" - Ann Kirschner
-Mourning Dove (Christine Quintasket) (ca. 1884-1936) -By Jack and Claire Nisbet
-Secret Agents in Hoop Skirts: Women Spies of the Civil War
-Pearl Hart
-Inside The Little-Known Story Of Laura Bullion, The 'Thorny Rose' Of The Wild Bunch
By Austin Harvey | Edited By Erik Hawkins
-Madame Moustache: The Notorious Life of Eleanor Dumont - By Geri Walton
-Goldie Griffith (1893 – 1976)
-The African American Women of the Wild West
-Saloon Girls: The 'Soiled Doves' Of The Old West
-Cowgirls of the Past -by COWGIRLDiary.com
- Old West Native American Women Warriors
-5 Pioneering Women Doctors and Nurses of the Civil War - Jocelyn Green
-What Was Life Like for the Pioneer Women of the Wild West? -Sarah Roller
-FEMALE MARSHALS OF THE OLD WEST
-Big Nose Kate Freed Doc Holliday By Nearly Burning Down A Town



And for the rest of the year...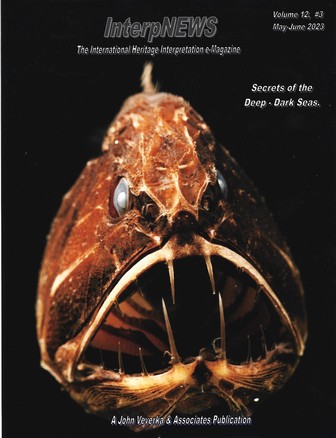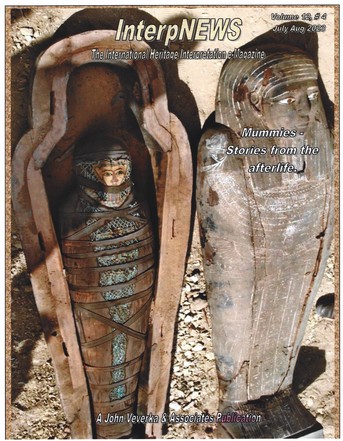 May/June 2023 - Secrets of the Deep-Dark Sea, July/Aug 2030 - Mummies Issue.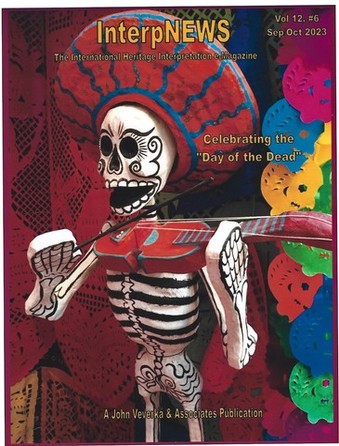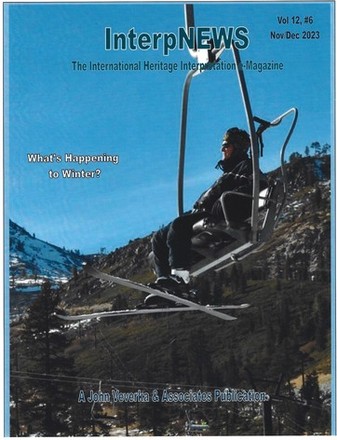 Sep/Oct 2023 - Day of the Dead Issue. Nov-Dec 2023 climate issue - What's happening to winter?


------------------------------------------------------------------------------


InterpNEWS for 2023 will also produce two special interpretive issues. One on Interpreting the Viking Heritage and one on the latest work in "Interpreting UFO Sightings".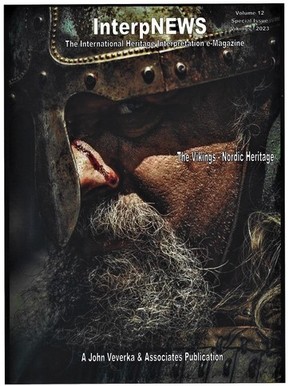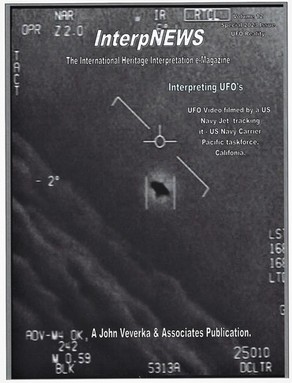 These speccial issues will be randomly reased in 2023.

----------------------------------------------------------

Subscriptions for 2023 -2024


Subscriptions for InterpNEWS (6 bi-monthly issues plus 2 special issues) is only $20.00 starting in 2023. Your subscription begins the month you subscribe - you'll receive the "current issue" and then 5 IN issues to follow, plus our special issues. All IN issues are sent to your e-mail address as a PDF. You can visit this website often to see what the current/next issues are and when they will be available.

All other JVA materials (InterpSHARE blog and seminars - and Heritage Interpretation Training Course Offerings) will continue to be sent out free of charge.


Subscribe here:



Cheers,
John Veverka
Publisher
jvainterp@aol.com