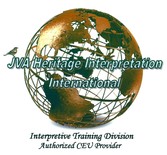 Planning/Designing of Interpretive Marketing Brochures
for Heritage Sites and Attractions e-LIVE
Professional Development Course.

25 hours to complete - 2.5 CEU Credits.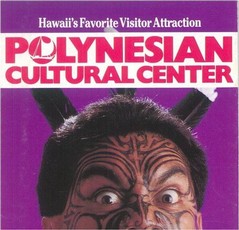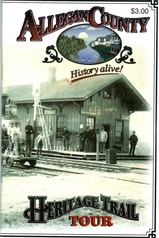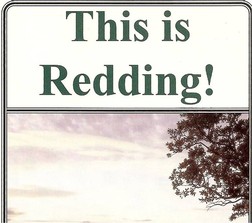 What do you really see in these graphic examples?

Are you ready for e-LIVE interpretive training? JVA is pleased to announce the development of the fifth of several e-Live interpretive training courses offered by John Veverka.

This is a University level introductory course on the planning, development and design of Interpretive Marketing Brochures for heritage interpretive sites and related attractions, for any individual finding themselves working for interpretive organizations or commercial heritage attractions, but having had no formal training in Heritage Interpretation Marketing. . This is the basic introductory course in planning/designing and distribution of marketing brochures for your organization.

Who is this course for:

- Any individual being assigned to a position with an agency or organization responsible for the
tracking, design and development of interpretive site marketing materials/brochures.

- Park, Museum. zoo, botanical garden, heritage site marketing development staff wishing to add
to their interpretive philosophical framework and technical skills.

- Landscape architects, historians, park planners and other professionals occasionally working on
interpretive projects and desire a basic understanding of what interpretive marketing strategies
actually are.

- Professionals developing interpretive media who have had no formal training in interpretive
communications (just because you call it "interpretive" doesn't mean that it is!) responsible for
the design and distribution of interpretive site/facility marketing brochures.

Do you need this course?

- If your visitor numbers are continuing to increase - probably not.
- If your visitor numbers are frozen - stuck in neutral - probably yes.
- If your visitors numbers are going down over the past few years - definitely yes.
- If your market groups are collapsing to just one or two - then probably yes.
- If you lack a "market creation" strategy - then yes.
- If your brochure have no pictures of "people" on them - then definitely yes.
- If your brochure doesn't highlight your products (of the site visit) then yes.
- If your brochure is not "experience" based by market group - then yes.
- If your brochure hasn't changed since the dark ages - then really yes.

- Do your brochures ends up like this (photo below): really - you still do this??? Why? You need this course!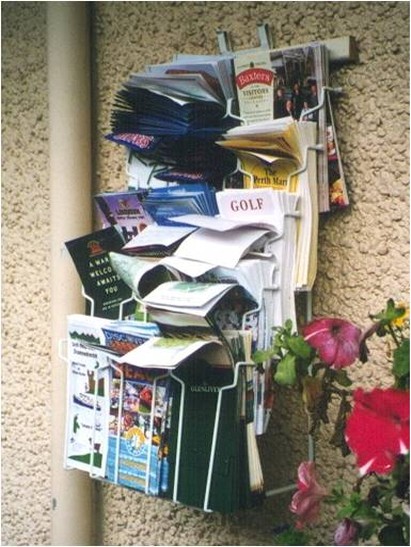 Many of you actually pay for this! Do you have a web site?


Your final project for this course will be:

to conduct a critical analysis of your current main organization/agency marketing brochure (what is good or bad and how to "fix it"), or re-design and develop a new marketing brochure for your site, agency or organization. John will help you all along the way. It may be painful, but the benefits will feel really good.

About the Instructor: Prof. John Veverka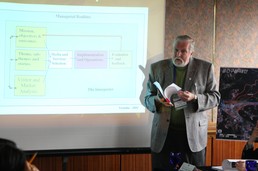 - B.S and M.S in Heritage Interpretation - The Ohio State University
- Ph.D. program in Interpretation at Michigan State University.
* Training in Heritage Interpretation Marketing.
* Training in Heritage Interpretation Visitor Survey Technques.
- Adjunct Professor Heritage Interpretation (summer heritage tourism institutes) North
Carolina State University, New York State University.
- NAI Certified Interpretive Planner and Trainer
- NAI Fellow
- Certified Professional Heritage Interpreter (Canada).
- Author of several interpretive planning/training college text books.
- Publisher of InterpNEWS - the International Heritage Interpretation e-Magazine.
- 40 years of interpretive planning, training and writing experience.

How does e-LIVE work? Our e-LIVE courses are limited to 10 participants at one time, to allow for maximum interaction with the course instructor. Once one participant completes the course another participant can be added.

- You'll be given course content to read and interact with for each unit.

- JVA will provide you with reading, text book and articles as part of the course.

- You'll be given a writing assignment for each unit which you will send to John for review, comments and writing coaching. You'll be able to talk with John about each assignment via SKYPE, or by e-mail or phone. Thus the e-LIVE opportunity. John will be your instructor and writing coach who you can talk with at any time about your assignments.

- When you've completed each course unit you'll be sent the next unit for the course. Again, you'll be given writing assignments for that unit to submit to John for review, comments and writing coaching.

- When you've completed the Units you will be awarded a certificate of completion and 2.5 CEU (Continuing Education Unit) credits.

Additionally, you can work on marketing assignment for actual projects you may be working on - museum brochures, marketing materials or other interpretive promotion projects. That is the benefit of e-LIVE - we are flexible in designing the course to meet your real-world needs.

The estimated completion time of the course is 25 hours - and you can work at your own pace.

Unit One: What is Marketing Anyway?

Unit Two: Where is your visitor in all of this? - do you know?

Unit Three: What should be in a Marketing Plan for Heritage Attractions?

Unit Four: New theories and concepts to be thinking about when developing your
marketing plans and strategies.

Unit Five: The Experience Economy - are your aware of it? Let's use it please!

Unit Six: Is your marketing brochure working? Does it cost more than it brings in? How
do you know if it is an effective tool or not?

Unit Seven: The Brochure interpretive planning process.

Developing your theme.
Developing your brochure objectives.
Five benefits your visitors will receive in return for their visit with you.

Unit Eight: What are your marketable "products" i.e. what do your visitors get in return for paying for their visit with you? What products or experiences am I selling?

Unit Nine: Who are your market groups and what examples/activities, experiences and photos will best relate to them personally?

Unit Ten: Market creation - generating new market groups.

Unit Eleven: Brochure design mechanics to think about:
Paper type and size, texture and finish
Die cuts
Point size and fonts.
folds

Unit twelve: Interpretive Writing (provoke, relate and reveal).

Unit Thirteen: Re-thinking your organization marketing Brochure - Your Critical Analysis.
- First Impressions - the Cover
- Brochure content - Think about the Psychology of the intended
tourist/visitor (who is on the pictures and what are they doing?)

Unit Fourteen: General Leaflet/brochure Layout Assessment Checklist - Putting it all together.

Unit Fifteen: Evaluation and pre-testing: Don't even think of not pre-testing your marketing materials! Ways to find out if your marketing brochure is working.

Ready for Change? This Course is now ready to "go live" . You'll be able to register for (and pay for) the course below via credit card or Pay Pal. You can also pay by check.

Cost for the 25 hours training with live interaction with the instructor is $250.00 USD.

If you're interested in this course and would like to enroll in it - send an e-mail to John at: jvainterp@aol.com for a registration form to fill out and return. Then you can pay for the course below. Just click on the "BUY NOW" icon.


Feel free to contact John if you have any questions at all.

Contact John at:
jvainterp@aol.com
www.interpretation.expert
Skype: jvainterp