Projects for 2013/2014.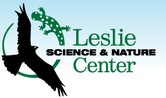 Leslie Science & Nature Center, Ann Arbor, Michigan. JVA was awarded the contract to develop the Interpretive Master Plan for the Leslie Science & Nature Center. The plan will include several elements including: Developing a draft feasibility analsis for a new Nature Center, analsis for development/modifications for their "Critter House", review/development of a site signage plan, and analysis of the LSNC marketing plan and materials. The project will formally begin on the 5th of December, 2014. You can visit the LSNC at: http://www.lesliesnc.org/




Daegu Univerity (Korea)/Korea Forest Service. Several projects working with Dr. Ju-hee Lee, including developing a 2-day interpretive training course and a writing a new Korean Forest Service text book: Interpretive Communication Techniques - Basic Communication Philosophy and Techniques for Forest Service Educational/Interpretive Staff Members. We are also assisting in developing an Interpretive Program Certification Process and Standards (and an interpretive program certification critique form and check-list for certification). October - November 2014.



Kaser Design - The Landings Association, Georgia, March Tower. Interpretive panel research and text for the Delegal viewing deck panels and the Tybee viewing deck panels, interpreting the natural and cultural history of Ossabaw Island and Tybee Island, GA.

CH2MHILL National Park Service IDQ. JVA is a team member with CH2MHILL in their recent award of an Indefinate Quanties Contact Award with the NPS. JVA will provide interpretive planning/design services as needed over the 5 year IDQ award period.



Kaser Design - Red Oak Creek Trail project., Texas. Provided interpretive writing services for trail interpretive signage.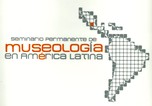 8th Annual Seminar of Latin American Museology, Mexico City, October 22nd - 24th, sponsored by the School of Conservation, Restauration and Museography/National Institute of Anthropology and History. John Veverka was invited to provided a keynote lecture on new ideas for interpretation of archaeology and history in Mexico heritage sites. The seminar included speakers from the US, New Zealand and throughout Mexico. A review of the seminar will be provided in the Jan/Feb 2015 InterpNEWS.


2014 NAI Region IV Conference, April 14-18, Dearborn, MI. John presented a workshop session on "Planning Truly Interpretive Exhibits" at the conference. In addition, John received the NAI Region IV "Distinguished Professional Interpreter Award" at the conference (a big thank you to the Region IV awards committee and Ray Novotny).



Interpretive Master Plan for Howard Farms Metropark. In 2013 JVA conducted an interpretive master planning course for the Metroparks of the Toledo Area. One of the Metropark staff teams, coached by JVA, developed an initial working draft of the Howard Farms interpretive plan objectives, theme and resource inventory. SmithgroupJJR is developing the Park Master Plan for this new and unique park project, creating a new large wetlands project and park from old farmland. SmithgroupJJR has subcontracted JVA to complete the Interpretive Master Plan for this project which will begin this spring.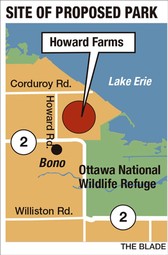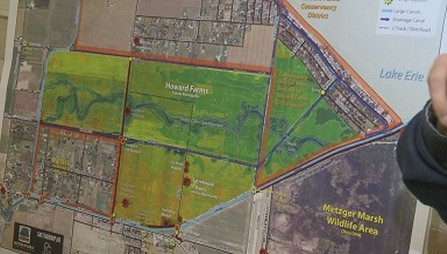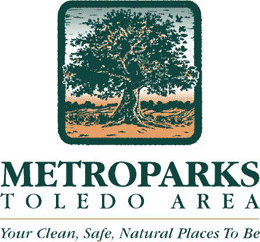 Developing an Interpretive Systems Plan for the total Metroparks system of parks. Starting this year JVA will be developing the Interpretive Systems Plan for The Metroparks of the Toledo Area. What is an Interpretive Systems Plan?

1. It integrates related facilities, themes, and stories within an agency or with several different agencies or organizations.

2. It facilitates a variety of levels of experience or "interpretive pacing" for the visitor with a common thread of experience on a regional or system-wide level.

3. It facilitates the use of natural, historical, and cultural resources that might otherwise be ignored or overlooked.

4. It enhances optimal use of available physical, financial, and psychological resources within an area or region.

5. It encourages a more expedient and rational approach to planning interpretive services along historic corridors or scenic byways, which may access areas or interpretive resources of many different agencies and communities.

6. It is the main tool for developing large scale heritage tourism plans, for determining the critical mass of tourism opportunities from which to market a regional of interpretive and heritage experiences.

To find out more about the parks what will be included in the interpretive systems plan check the Metroparks website: http://www.metroparkstoledo.com/metro/parksandplaces/index.asp?page_id=483. The systems plan will also include new parks currently under development not on this list.

To learn more about interpretive systems planning JVA has a publication on developing interpretive systems plans that I would be happy to e-mail you (as a PDF). jvainterp@aol.com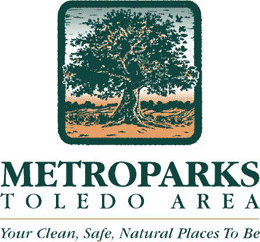 Interpretive Master Plan for Middlegrounds Metropark. Middlegrounds metropark is a new park and a work in progress. It is an abandoned industrial site where historically it was a major shipping/rail transportation hub. Ships traveling on the Toledo River would dock here and load/unload cargo to a major railroad hub. The new park land master plan is being developed by JJRSmith Group. JVA is working in coordination with them and the park district to develop the interpretive master plan. The interpretive plan will be completed this summer. A historic photo of this area is provided below where you can see the "historic landscape" (left) and an interpretive media concept design (right).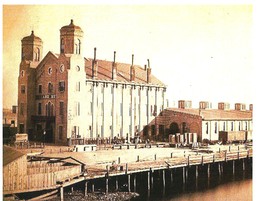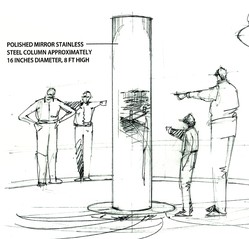 Interpretive Exhibit Planning for the new Providence Heritage Center (in process). JVA developed the Interpretive Exhibit Plan for the new Heritage Center, as part of the Interpretive Master Plan for Providence Metropark. JVA partner Matt Kaser (Kaser Design) is working on developing some working draft concepts for the heritage center, one concept example shown below.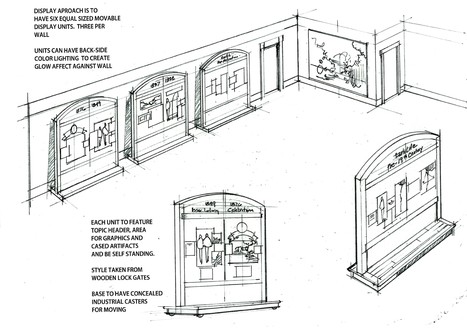 Chessie Circle Trail - Interpretive Graphic Standards. JVA, in association with Kaser Design was awarded the contract to develop the interpretive Graphic Standards for the Chessie Circle (Rails to Trail) project. The Graphis standards project will be completed in March, 2014. Here are some draft initial designs FYI (by Kaser Design: http://kaserdesign.com).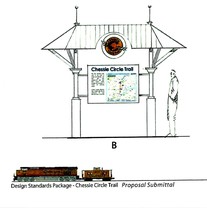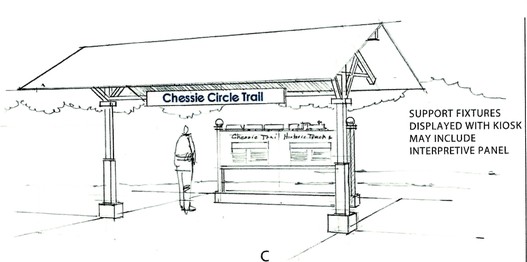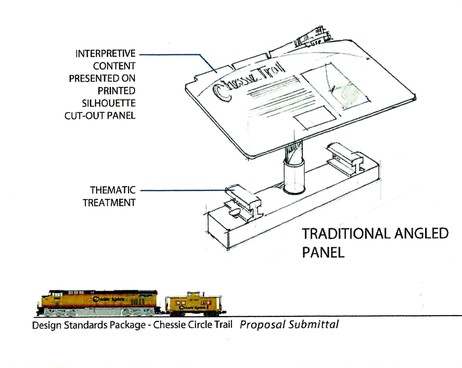 US Army Corps of Engineers, Interpretive Services Course, Huntsville, Alabama. This is year 3 into our 5-year contract for developing and teaching the 4-day interpretation courses on basic interpretive services. Training focuses on interpretive theory and principles, planninng interpretive media, planning, presentation of an interpretive program, and field experience in interpretive planning at theWheeler NationalWildlife Refuge. The course is taught twice each year. The first 2014 course was 27-30 January, 2014 (left photo), and the recent June 2014 course participants (right photo).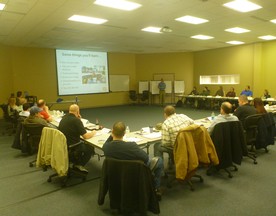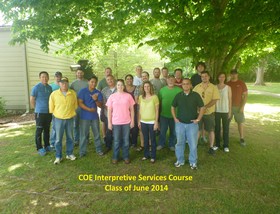 Friends of Cape May National Wildlife Refuge – Interpretive Training Workshop (8 January 2014). The introduction to interpretation and interpretive planning workshop was conducted for the Friends of Cape May and other regional interpretive agencies and organization members with over 60 participants representing a variety of organizations. The goal was to acquaint new and current interpretive volunteers, staff and community members with interpretive philosophy and theory, interpretive program planning guidelines and with the draft Cape May NWR Interpretive Plan.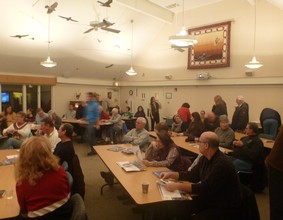 Snowdonia National Park Training Center, Wales, UK. We just completed (Sep. 6th, 2013) our week long Interpretive Master Planning course at Plan Tan y Bwlch. Our group photo from this course is posted below. We have scheduled our 2014 courses (Interpretive Master Planning in May and Marketing and Growing your Interpretive Audience in September) - watch this web site or contact us for details. You can visit Plan Tan y Bwlch training center in Wales - UK at: http://www.eryri-npa.gov.uk/study-centre. Look under Professional Courses.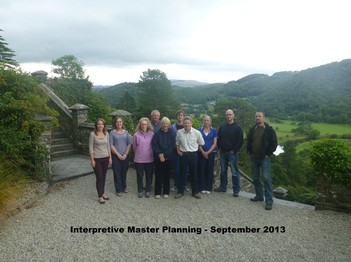 International Conference on Interpretation of Natural Heritage, sponsored by the Punjab Heritage and Tourism Promotion Board, Department of Tourism, Punjab, India. John Veverka is an invited keynote speaker for the conference speaking on Interpretive Master Planning. The conference was held on 1 October, 2013 in Chandigarh, India.




US Army Corps of Engineers. JVA was awarded a contract to totally re-vamp the interpretation course - Interpretation for Supervisors, Managers and Team Leaders, for the 2014 training seasons. This included a new schedule of instruction for the 4 1/2 day course and a new course manual. August, 2013.





Chessie Circle Trail - Interpretive Master Plan - Toledo, Ohio. The Chessie Circle Trail is a rails-to-trail program owned and managed by a partnership of organizations including: Metro Parks of the Toledo Area; the University of Toledo; the Wood County Park District; and the Wood County Park Authority. The trail was part of the old "Terminal Railroad" that served the regions massive industrial sites, and eventually becoming part of the Chessie Line. The rail-to-trail segment is 11 miles long and will serve both bicycles and hiking activities. Interpretation will focus in part on the railroad history the trail illustrates and the communities and industries it once served. This project started in May and was completed in September, 2013.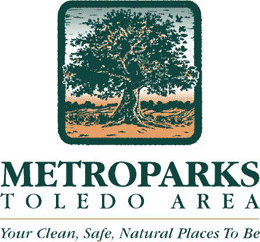 MetroParks of the Toledo Area - Interpretive Training. JVA conducted a 4-day Interpretive Master Planning course for MetroParks staff. Participants brought interpretive planning projects with them to work on during the course and left with solid working drafts of their plans, along with the knowledge to complete and implement them. May, 2013.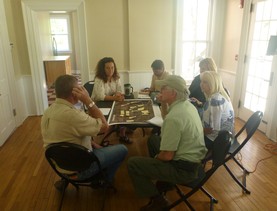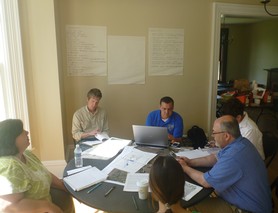 Two Metropark teams working on two different interpretive plan projects during the course.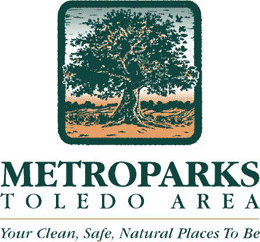 MetroParks of the Toledo Area - Providence MetroPark. JVA, working with The Collaborative. Inc (A great Landscape Architect firm located in Toledo, Ohio), was selected to develop the Interpretive Master Plan for Providence MetroPark. This is a unique park in that it has a wonderful Canal history and features a summer canal boat ride experience. It is also the location for a historic grist mill. The project officially started in April and was completed in June/July 2013. A few photos of Providence MetroPark Canal Interpretation program are shown below.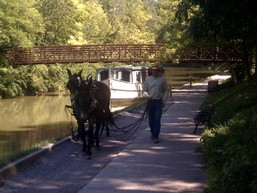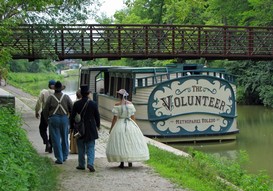 University of Michigan-Flint. Provided a lecture on the role of heritage interpretation in public history program, services development, U-M Department of History -Public History Program. April 2013.University of Michigan-Flint. U-M Department of History -Public History Program. April 2013.





Cape May National Wildlife Refuge, New Jersey. JVA, with the project team of Management Analysis Inc., was awarded the contract to develop the refuge "Visitor Services Management Plan".. The project began in February and will continue through 2014. JVA was responsible for the interpretive services analysis and future interpretive development strategy. Photo - Cape May Hurricane Sandy damage/flooding. You can visit their web site at: http://www.fws.gov/northeast/capemay/.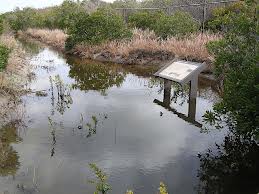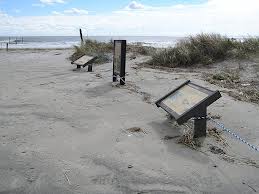 US Army Corps of Engineers, Interpretive Services Course, January 2013. Huntsville, AL. This intensive 4-day interpretive services planning and coaching course for ACOE Rangers included interpretive theory and practical hands-on experiences planning and designing interpretive media and live programs. (Group photo - left, designing interpretive panels project - right photo).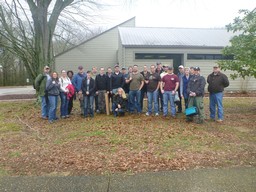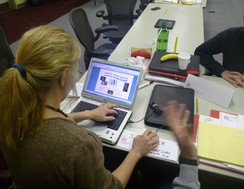 National Parks of South Korea/Daegu University - Environmental Education Center Concept Development/ Interpretive Plan - Pilot Project - Gyeryonsan National Park. JVA working on the team with Dr. Ju-Hee Lee, Deagu University, was contracted by the Korea National Park Service to develop the initial interpretive concept for development of a National Parks Environmental Education Center. This is a pilot project at Gyeryonsan National Park, that will eventually be used as a model to develop EE Centers in other Korea National Parks. This project includes: site selection for the first National Park EE Center; development of the EE building concept footprint and building program; concepts for outdoor EE facilities including demonstration and activity areas; EE Discovery Trails; EE Center program topics and content recommendations; and EE market development. The pilot concept design/interpretive plan was completed in January 2013..


Historic Falmouth (Stafford County, Virginia) Interpretive Master Plan. JVA in partnership with Lynn Knight of Management Analysis, Inc. (Virginia) were award the contract to develop the Interpretive Master Plan and Heritage Tourism Analysis/Potential for the historic community of Falmouth, Virginia. Many of Falmouth's early buildings remain standing, including the Cotton Warehouse; Duff Green Warehouse; Cambridge Inn, Temperance Tavern; Barnes House; Magistrate's Office (right photo); Counting House; Basil Gordon House; Moncure Conway House (boyhood home of the South's most prominent abolitionist- middle photo); and Shelton Cottage. For more information about the history of Falmouth (and Stafford County) click on this link: http://www.staffordcountyhistoricalsociety.org/places. Check out this recent news release: http://news.fredericksburg.com/newsdesk/2014/03/19/historic-falmouth-getting-closer-look/?showi=fbi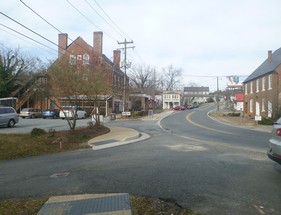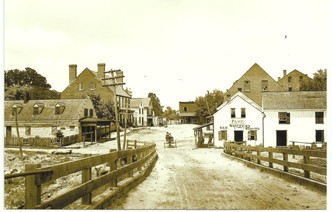 Historic Falmouth main streess (now and then).




Newcastle Universities Centre for Culture and Heritage Studies in the UK is developing a new suite of Postgraduate e-learning programs in Heritage Management and Tourism. The program includes 6 modules with each module having 8 unites in it. For the Communication and Interpretation Module, I have been asked to create the Units for: "Communication and Interpretation Planning and Programming" and the unit on "Guiding and providing information for visitors". I have started working on these Units and hope to have them completed in October. Each Unit will require about 15 hours of student engagement time. I'll provide more information on the total heritage studies program as it is further developed. It is planned to attract an international audience. - jv





Old Baldy Foundation, Old Baldy Lighthouse Interpretive Master Plan/Exhibit Concept Design Plan. JVA with Kaser Design, was awarded the contract to develop the Interpretive Master Plan and new museum exhibit concept designs for the Old Baldy Lighthouse, located on Bald Head Island, North Carolina. The project will run thru 2014. You can visit this site at: http://www.oldbaldy.org/HOME/tabid/36/Default.aspx. A concept design for the "lens exhibition".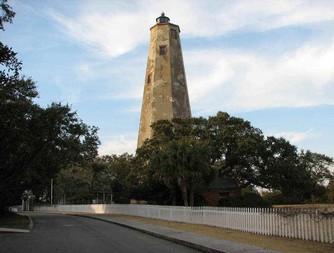 Korea National Arboretum. JVA, working with Dr. Ju-Hee Lee of Daegu University (Korea), began working on a new project for the Korean National Arboretum in 2012, developing an interpretive training program/exhibit planning training program, for Arboretum Staff. I will be working on a strategy for training people who want to be an expert on Interpretive Education and Exhibit Planning in Arboretum settings for the first phase. Current work includes developing the full curricula for the training program as well as lesson plans, teaching aides and related materials, all of which will be translated into Korean. I just finished my new book "An Interpretive Trainers Handbook" which will be incorporated into the training program. The project will continue through 2015. Some photos from the Korea National Arboretum from a recent visit.